QUINCE JELLY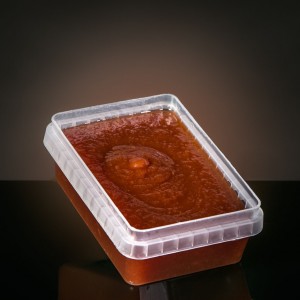 Quince Jelly is one of the most traditional desserts in Spanish gastronomy. A healthy food that can be incorporated into many recipes, being a good cheese board one of the most popular ways of presenting it. MARISCAL&SARROCA Quince Jelly comes from the best Mediterranean fruit orchards, and it is prepared according to ancestral recipes of the Spanish east coast.
Originally from Asia, quince fruit was introduced some centuries ago in Spain. Only the best quinces from the Murcia region are used to make the delicious Quince Jelly we offer. Mixed with sugar in a slow cooking process, we obtain this delicious and original paste that is healthy and natural, as well as fat free.
Give your dessert a special touch with Quince Jelly from MARISCAL&SARROCA.

Quince Jelly Package
1.5 KG TOP QUALITY QUINCE PASTE TO SLICE BEFORE CONSUMPTION. ORIGINAL FLAVOUR.
TUB 400G. TRADITIONAL FLAVOUR.
TUB 400G.QUINCE PASTE PREPARED WITH ORANGES.
TUB 400G. QUINCE PASTE PREPARED WITH WALNUTS.