CHEESE IN TRUFFLE EXTRA VIRGIN Oil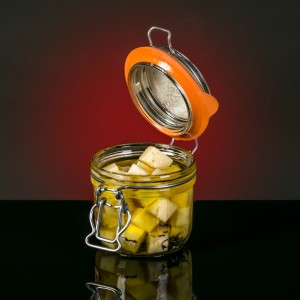 MARISCAL&SARROCA offer you the possibility of enjoying the most exquisite sheep's cheese preserved in truffle extra virgin olive oil. This is a real delicacy for very special occasions.
The cheese is made from fresh pasteurized sheep's milk, and it is preserved in small cubes immersed in a delicate olive oil scented with the best truffle in the world, the Tuber melanosporum, or black truffle from Teruel. With time, the cheese acquires the intense and unique flavour of the truffle.
GOAT'S CHEESE PRESERVED IN TRUFFLE OLIVE OIL
GLASS JAR
PERFECT AS AN APERITIFF, AS A TASTY TAPAS SERVED ON TOP OF A TOASTED FRESH SLICE OF BREAD.
400 ML