Salamanca Ham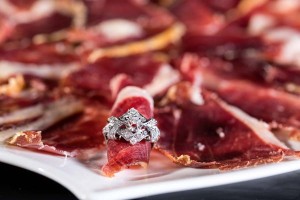 Iberico jamon is possibly the best delicacy of Spanish gastronomy. It is a real pleasure to gather around a table with family and friends to eat some finely carved Iberico ham from Salamanca. This excellent ham has an intense and lasting flavour, full of nuances and scents from the meadows of this beautiful part of Castilla. The Iberico ham from Salamanca that MARISCAL&SARROCA offer you is cured in the dry cold mountain air. Salamanca enjoys short summers followed by long dry winters, the perfect climate for curing this gourmet food.
MARISCAL&SARROCA have sourced this limited production ham, selected by experts from animals that have roamed freely in the Salamanca meadows. Slow curing methods guarantee the best quality. A true delicacy.

SLICED
FINE SLICES OF IBERICO HAM FROM ACORN FED PIGS.
CURED FOR +36 MONTHS.
PACK 100 G.
VACUUM PACKED. CARDBOARD TRAY.
BRING TO ROOM TEMPERATURE BY TAKING THE PACK OUT OF THE FRIDGE AND OPEN APPROXIMATELY 30 MINUTES BEFORE CONSUMPTION.