CHEESE WITH CIDER
This is a modern take on the two most traditional elements from the asturian gastronomy, milk and cider. The rich and flavoursome milk from the green pastures of Asturias is mixed with the pressed apples to produce a curd that will turn into a soft, silky cheese with fruity and floral aromas.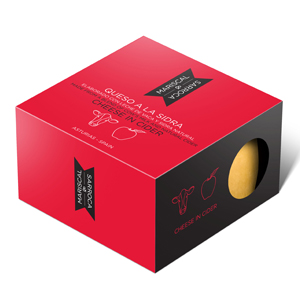 PASTEURIZED COW'S CHEESE WITH A TOUCH OF CIDER.
SUBTLE FRUITY FLAVOURS.
TRADITIONAL ROUND SHAPE, CHEESE RECIPE 500G.
ENJOY ON ITS OWN OR WITH BREAD/CHEESE CRACKERS.