Baked apples with iberico chorizo and goat's cheese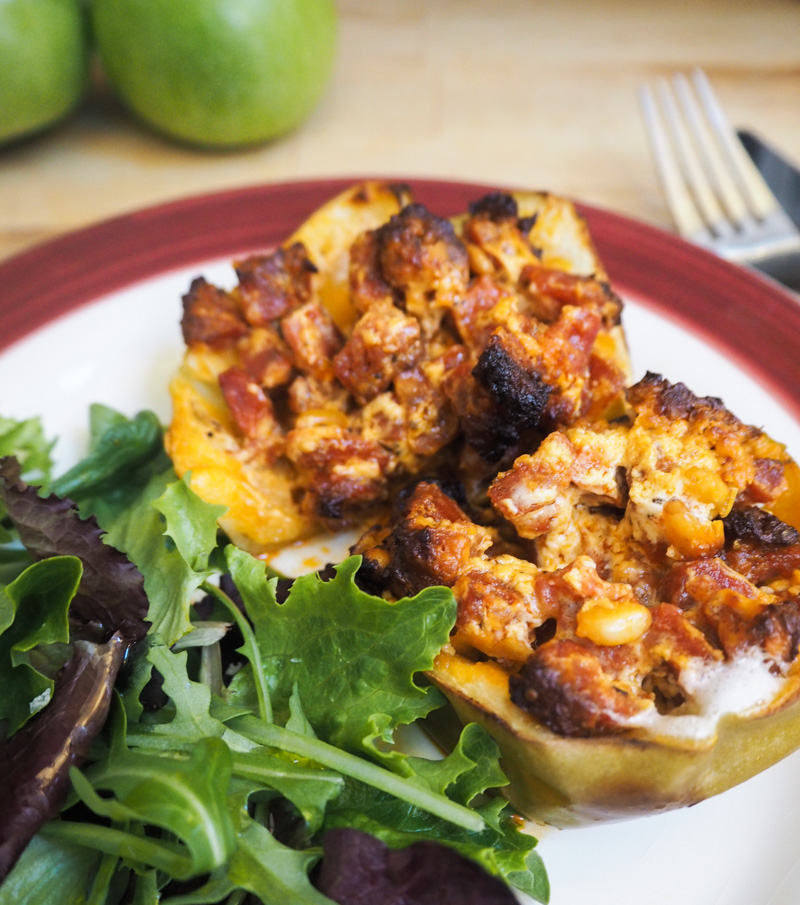 Here it's a recipe easy to make, quick to prepare and suitable for just one person: baked apples stuffed with iberico chorizo from Salamanca and goat's cheese. Apples stuffed with a savoury filling of iberico chorizo, crunchy pine nuts and creamy goat's cheese, baked until they're soft and steaming and delicious. An awesome idea by the blogger Little Miss Katy.
Let's get started shall we?
INGREDIENTS (FOR TWO PEOPLE)
– 2 apples
– 1 tbsp of lemon juice
– 1/3 of an iberico chorizo (Mariscal & Sarroca)
– 1 shallot
– 1 tsp of dried sage
– 1 tsp of Spanish extra virgin olive oil (Mariscal & Sarroca)
– 1 small handful of pine nuts
– 2 tbsp of creamy goat's cheese
PREPARATION
1. Turn your oven on to 200 degrees and line a tray or tin with silver foil.
2. Prep your apples: chop off the top, then carve out the centres and get rid of the pips, core and extra flesh. Be careful not to pierce the skins. You should be left with a bowl-shaped apple that sits straight on a flat surface. Drizzle the insides of the apple with the lemon juice. This will stop them from turning brown. Pop them on your prepped tray, and put to one side while you make the filling.
3. Chop the Mariscal & Sarroca's chorizo into very small chunks. Peel and finely chop your shallots.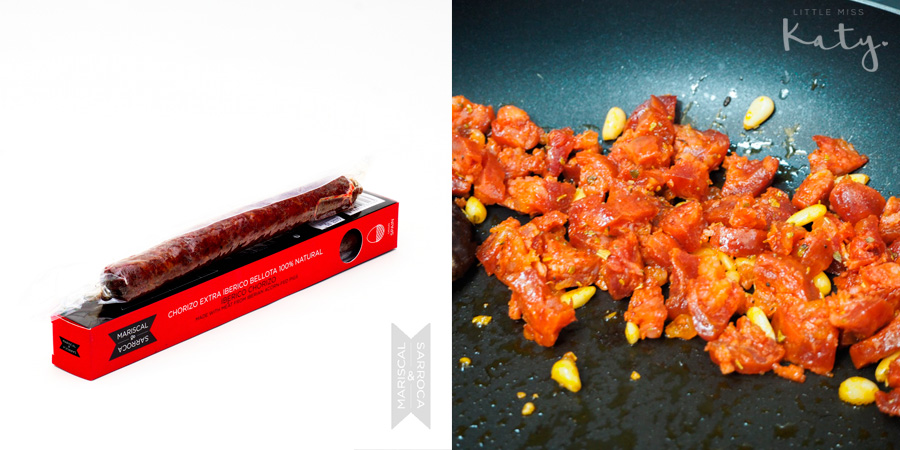 4. Heat the Mariscal & Sarroca's extra virgin olive oil in a frying pan. Once it's sizzling, add the iberico chorizo, shallots and sage. Stir until the shallots are translucent and soft, and the chorizo is just getting crispy round the edges. Add the pine nuts and stir everything for a few more minutes, until the pine nuts are lightly toasted.
5. Pour your chorizo and shallot mixture into a bowl. Add your creamy goat's cheese and mix in thoroughly. Dollop your filling into the apples, until it's just poking out of the top.
6. Bake in the oven for 15-20 minutes, depending on how big your apples are. The fruit should feel soft and the topping should be bubbling slightly. Serve your baked apples hot from the oven, with a side of green salad!